Come Back home
From Monitor News January 26, 2006
by EMANNUEL GYEZAHO and MOSES MULONDO RUKUNGIRI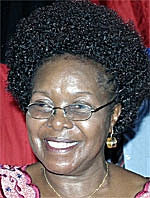 Miria woos Muhwezi to UPC
Residents of Rukungiri town presumed to be the FDC President, Dr Kizza Besigye's stronghold, were on Tuesday excited by the arrival of the Uganda Peoples Congress presidential candidate, Ms Miria Kalule Obote.
Hundreds of people gathered in the town, some standing on the roadside while others climbed on rooftops craving for a glimpse of the only woman candidate.
"I thought she was an old woman but she is still fit," one of the residents shouted on top of his voice referring to Miria.
A motorcade of over 10 cars from within Rukungiri joined her convoy making it bigger and attention grabbing. She later addressed a big gathering at Boma Ground. Health Minister Jim Muhwezi's father, Kamu Karekaho, who has been the UPC chairman for Rukungiri district for the last 45 years, officially welcomed Miria to address the people at Boma Ground.
Karehako, who is also a former minister of animal husbandry in the Obote II regime, threw the gathering into laugher when he said to Miria, "You are a mother of everyone in the country but not me because you are my muko (in-law).I do not want to relinquish that title," he said.
After the rally, Miria spent the night at Rukungiri Inn where she encountered Jim Muhwezi.
Shortly after the Boma rally, Miria dared to woo Muhwezi to the UPC. "You must come back home. These are our lost sheep, thank you for welcoming us," Miria told Muhwezi who owns Rukungiri Inn.
The minister responded with the analogy of how unbecoming it was for a grown up son to leave his father's home when he marries and then comes back to stay with the father. Muhwezi was hospitable to Miria. "You are very welcome. I told them to put your posters on the wall and they are there despite me being an NRM member," Muhwezi said while pointing at Miria's posters. While addressing an impromptu rally outside the premises of Kambuga Hospital in Kanungu district, Miria's voice failed to come out clearly.
Her voice seemed to have improved on Tuesday while she was addressing a rally in Bushenyi. She first lost it over the weekend as she addressed a series of rallies in western Uganda. Her doctor, Henry Opiote, had advised her not to address rallies until after regaining her voice.
When Daily Monitor spoke to Opiote, he blamed the deteriorating voice on the Tuesday rally in Rukungiri. "Having been excited by the huge crowds in Rukungiri, she ended up speaking for long, which caused the problem," the doctor said.
Opiote says since her voice started deteriorating, Miria has been using syrup and honey to improve it.