Miria Obote attacks government over pensions
From MONITOR News January 27, 2006
by EMMANUEL GYEZAHO & EVELYN LIRRI KABALE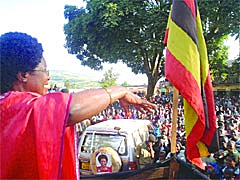 I AM GRATEFUL: Miria addresses a rally at Kabale Central Market. Photo
by Robert Muhereza
Uganda Peoples Congress presidential candidate Miria Kalule Obote received a grand welcome in Kabale yesterday, with crowds lining on the streets to catch a glimpse of the only woman in the race. The people braved the scotching sun and waited for Miria, who turned up eight hours late at 4:20 pm.
Her supporters led a procession from the streets to Kabale Central Market where she addressed a huge crowd. The crowd applauded every word Miria said. She said she was excited to be in Kabale, once a Democratic Party stronghold in the late Dr Milton Obote regime.
"I thought in this part of the country people did not know me and had forgotten about me. I am very grateful to you," Miria told a cheering crowd.
She reiterated her earlier pledge to set up a peace and reconciliation commission, saying the country needs a peaceful environment for development.
Miria criticised the ruling Movement government for failing to pay pensions and gratuities to beneficiaries and promised to pay off all pensions to beneficiaries if elected.
"Imagine these people have sacrificed a lot. Many have died without getting this money. I will ensure that people get this money," she said.
She took a swipe at the symbols for the various opposition parties, saying the purpose of the NRM symbol of the thumb is to kill life and bedbugs while the two finger V-sign of the Forum for Democratic Change is like a scissor used to cut clothes, but cannot be used to mend them.
Miria said it is only the UPC symbol of the hand which can be used to sew and mend clothes. There was an exciting moment at the rally when the UPC Kabale district chairman, Mr Paul Karekyera, presented to Miria an old woman who had been keeping Obote II currency notes amounting to Shs10,000.
The elderly woman whose name Daily Monitor could not easily establish, said she had kept the money to give it to Miria as a donation for the campaigns. At the same rally, the UPC national chairman, Prof. Patrick Rubaihayo, was booed by the crowd who repeatedly shouted, time up, when he stood up to address the rally. Not amused by their actions, an infuriated Rubaihayo shot back, "you are shouting time time, are you the ones who have given me permission to talk?"
He later told the crowd that when the UPC comes into power, it will make sure all the people involved in the plunder of resources in the Democratic Republic of Congo pay back even if they have stacked the money in foreign banks. He said the money will then be channeled for education and construction of roads.