Miria blames government over northern war
From NEW VISION, 11 January 2006
By James Oloch in Lira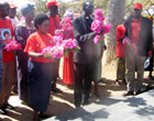 SORROW
Mama Miria Obote (left) prays before laying a wreath on a monument erected in memory of people massacred by the LRA rebels at Barlonyo on February 21, 2003
UPC presidential candidate Miria Kalule Obote has rapped president Yoweri Museveni for not ending the Lord's Resistance Army rebel war during his 19-year rule. She said the war had made people in the north very poor because they were forced into camp where they cannot generate any income.
"There is abject poverty in the north compared to other regions in Uganda, all because of Museveni's reign."
Miria said this on Sunday when addressing people in Apac town, Aber sub-county and at Corner Kamdini in Apac district.
She accused Museveni of neglecting northern Uganda.
Miria joined hundreds of Christians at Aduku church of Uganda before proceeding to Apac town. She said on top of the poverty, over 1,000 IDPs die every week due to disease. She said the IDPs would be returned to their villages if UPC wins the elections.
She said the UPC government would end the northern war and bring peace in Uganda.
She said the country cannot be stable when some sections on the community are too poor to afford a living.
Miria said UPC had good programmes in its manifesto. She said fighting poverty would be their first priority. He said UPC would also improve the quality of Universal Primary Education, claiming the programme was the brainchild of UPC, but was hijacked and messed up by the Movement.
She said UPC would give loans to women for businesses and to students for their studies.
Miria said UPC would abolish state house scholarships but set up a scheme to help all poor students without discrimination. She said UPC would also bring back cooperative societies.